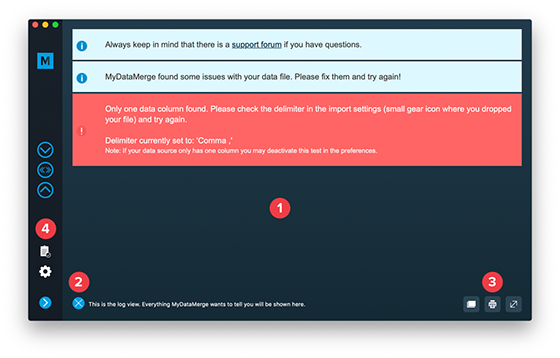 1. Log view
The log will pop up if  wants to tell you something or if you click on the log button (Nr. 4). It can contain
Notes (Blue)
Warnings or errors (Red)
Some other information (Green)
---
2. Exit log
Press this button to return to the previous screen. This button is not available in the standalone log (see options below).
---
3. Options
From left to right:
Toggle standalone/embedded log: If you want to have a separate log window you can click this button.
Open/close all folded messages: If there are folded messages (that you can open by clicking them), you can open or close all of them at once with this button
Print log: Will print the log and present it as list that you can work through or hand to your clients so they can correct the database delivered to you.
---
4. Open/Close log view
From this button you can open/close the log at any time.
---
Working with the log
The log will show you different kinds of informations as mentioned above in Nr. 1
Unfolding messages
Some errors can be unfolded/opened to get detailed information. To unfold an error, click on the little arrow on the right.

Links
Some errors contain links that are underlined. Links can be clicked and will take you to specific locations in your setup. For example: The image below shows 1 error message unfolded with 3 links:
The first link "Primary Setup" will take you directly to the editor and select the setup for you.
The second link "Datasource entry" will take you also to the editor, will select the setup for you and will scroll to the datasource entry element inside of that setup
The third link only appears if you're using a Microsoft® Excel® file as datasource – it will open the datasource in Microsoft® Excel® and select the cell for you where data is missing.
Hint: If you have to work through a whole list of errors, it's recommended to have the log as standalone window (check "Options" above)